Kasco Unveils New, Fully-Responsive Website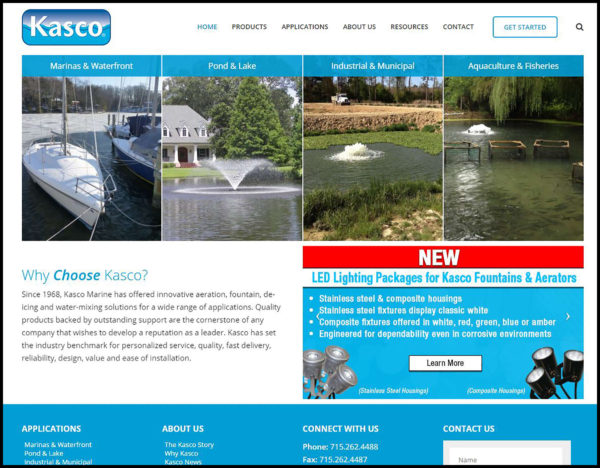 Kasco, a leading manufacturer of aeration, fountain, de-icing and water-mixing solutions, is excited to announce the launch of their completely redesigned website at www.kascomarine.com.
The newly designed site was built from a clean slate with nothing but user friendliness in mind. Focusing heavily on updating the layout and navigation, this cleaner, more attractive site makes it easy for users to quickly find the product or information they need. Technical product details are also displayed and organized in a much more concise and succinct manner.
"Our existing site worked, but as we've expanded our product line and application areas, we knew it needed an update, said Bob Robinson, Kasco Director of Sales and Marketing. "For the redesign, we focused on a whole new structure and navigational hierarchy that would really benefit our customers and prospects."
The new site has two primary paths of navigation: by product, for those who know what type of product they need, and by application, for those who know what their need is but are not sure which product will work best. This allows visitors to use the site in a way that best fits their needs. On each product page, site visitors will notice detailed product descriptions, technical documents, marketing literature, videos and testimonials.
In addition, the new site offers a great deal of technical and educational resources such as the Learning Center page, with nearly 50 articles addressing water quality topics, and the Downloads page, providing access to product specifications, high resolution photos, and marketing material.
The new site is completely responsive, meaning it will automatically adjust pages and content to display nicely regardless of the web browser or mobile device being used. This ensures a seamless and functional experience for most every user.
The site's refreshed look, improved content, enhanced organization, and optimization for mobile devices allows visitors to better interact with Kasco online.
Take a look around the site to see what's new!