Interview with the Engineer: NEW RGBW LED Lighting Systems
An Interview with Kasco's Engineering Team | May 12, 2023
____________________________________________________________________________________________
Kasco is excited to introduce a new offering to our WaterGlow Lighting product line – the RGBW LED Lighting System. These new systems are powered by high-performance LED's and optics to bring captivating, vibrant hues to your evening fountain display.
Kasco's RGBW systems are engineered to be the brightest, most robust RGBW light systems available on the market. To explain what went into the project, our engineering team gave us a behind-the-scenes look at the entire process, from design to production.
Why was the line expanded to offer these new systems?
With our current WaterGlow product offering, we did not have an option for customers to apply color changing RGB lights to larger fountains. When we found out that end users were buying multiple RGB light kits to illuminate 2HP – 7.5HP fountains, we knew it was the perfect opportunity to expand the product line.
Can you elaborate on some of the design, implementation, and testing involved?
The main objective of this new design was to produce a long-lasting, easy-to-use lighting system that illuminates larger fountains effectively and efficiently with every nozzle pattern that's included. To execute this goal, we designed robust luminaires (fixtures) that provide a durable, watertight light source. These leakproof fixtures dissipate heat produced by the LEDs out of the sealed fixture, prolonging their life expectancy. We also designed and engineered a light engine that provides the greatest light output possible. This was done through optimization of the optics and light emission. Additionally, these systems were built to have a simple solution for installation, setup, and operation.
While following UL testing requirements, every component of the light fixture was designed to stand up to the installation, daily use, and removal required with floating fountains. Multiple kits were installed and operated in various locations throughout the country to ensure the new lights would be successful in harsh, real-world conditions.
What sets these systems apart from the rest? What are the main features?
Although components of the RGBW lighting system were inspired by our previous designs, there are many unique features. Every fixture contains eight individual LED arrays that each have their own optic for directing light output. These optics were selected to provide both spot beams and flood beams to display the best light coverage on tall and wide spray patterns.
Our RGBW systems feature 36-preprogrammed color scenes and DMX addressable fixtures to provide a customizable visual display. Customers can choose between a push button controller or a Wi-Fi connected controller at the point of purchase. The Wi-Fi option allows you to control the lights from an app on your phone or tablet. It also provides a local control at the panel as well.
Are they hard to install or operate?
Installing RGBW light kits on a larger fountain is likely easier than installing multiple kits that are designed for smaller fountains. There could be some initial learning of the RGBW controller and how to select color and brightness options. However, it is pretty intuitive and Kasco has videos showing the operation.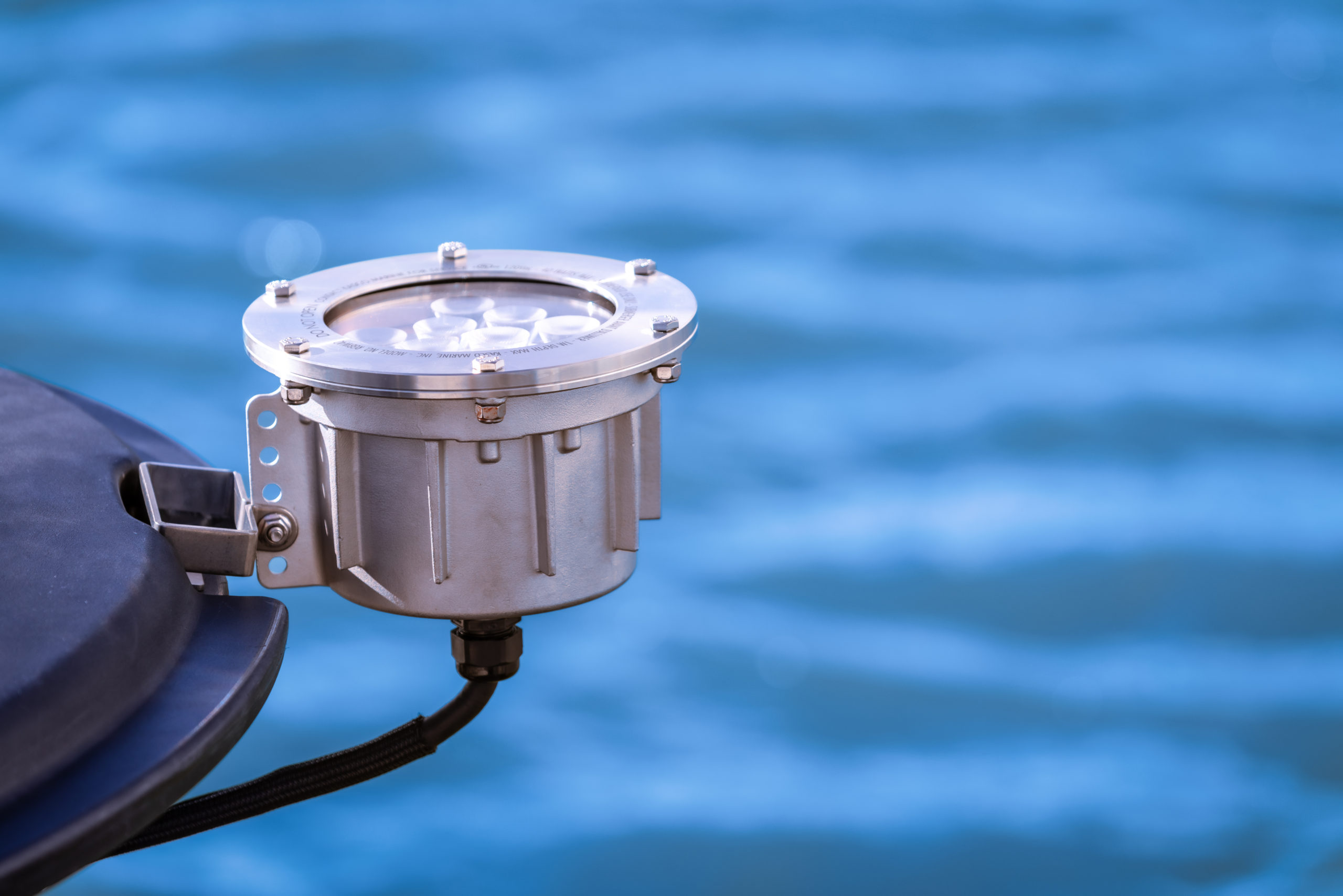 What is the electricity draw for an RGBW system?
Each fixture is rated with a max input of 48 watts at 120 VAC. This rating was calculated with all the RGBW LEDs turned on and operating at max brightness. The power draw is only a fraction of this rating when operating with only one color or blended colors.
What are you most excited about with this new design?
Each unique light fixture has the ability to be a different color, speed, and brightness at any given time. Our team's favorite setting is the dancing flame scene. The lights display a blend of orange, yellow, and red hues that mimic flames. While Kasco is currently only providing pre-programmed color scenes with the standard offering, the RGBW controller could be programmed to anyone's needs in the future.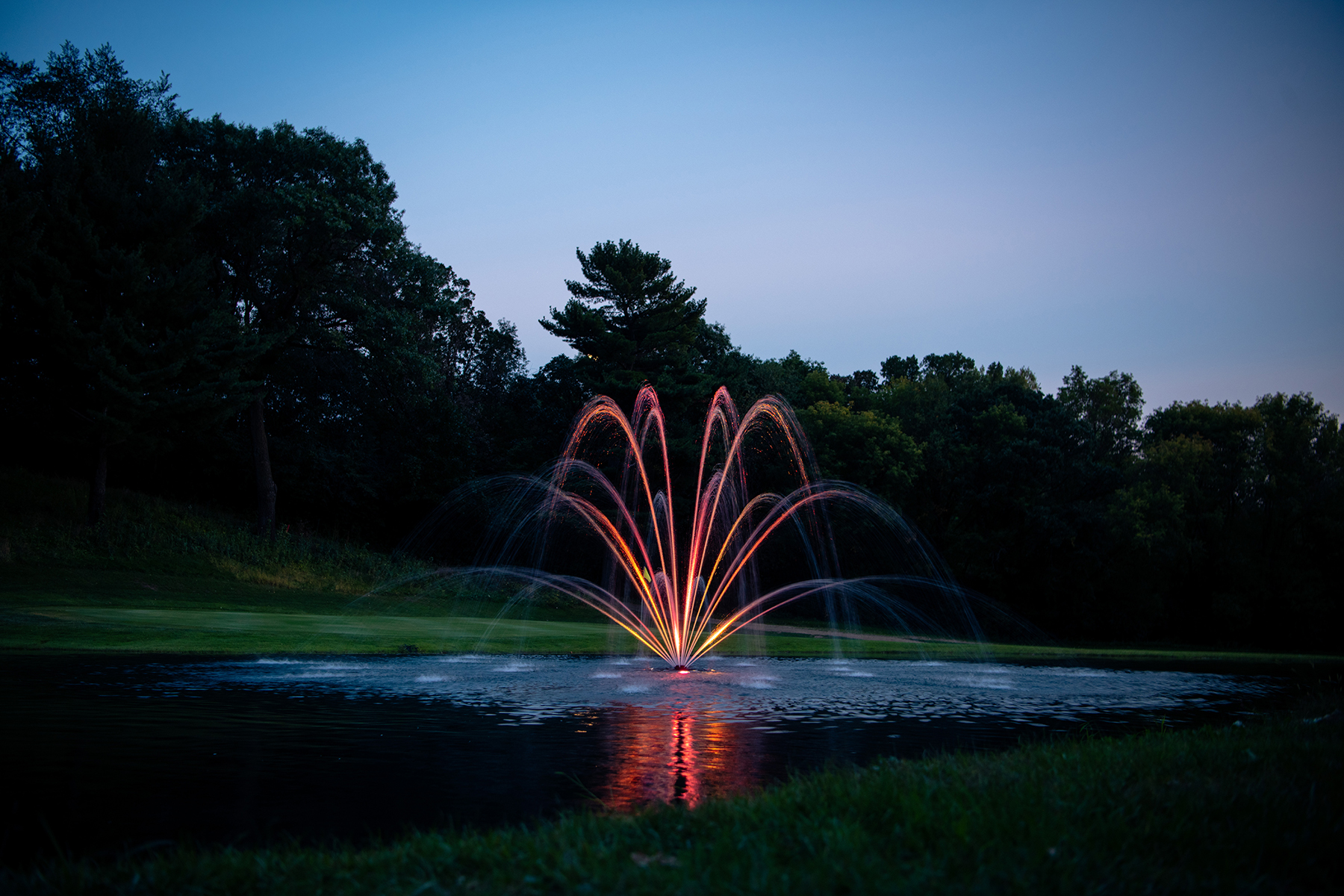 Are there any plans for further updates?
Nothing is set in stone at the moment. However, there is constant evolution with LED technology and their lumen/watt ratings, so it is likely there could be improvements in the future. There is also the potential to expand the fixture count in a RGBW light kit as well as the possibility of custom scene writing and control.
Learn more about these exciting new systems by visiting the RGBW Lighting webpage or contact Kasco at 715-262-4488 or sales@kascomarine.com.
---
Related Articles
Kasco Lighting for Nighttime Displays
April 11, 2023
Running your fountain or aerator at night adds crucial oxygen and can extend entertainment with the right lighting system. Learn more.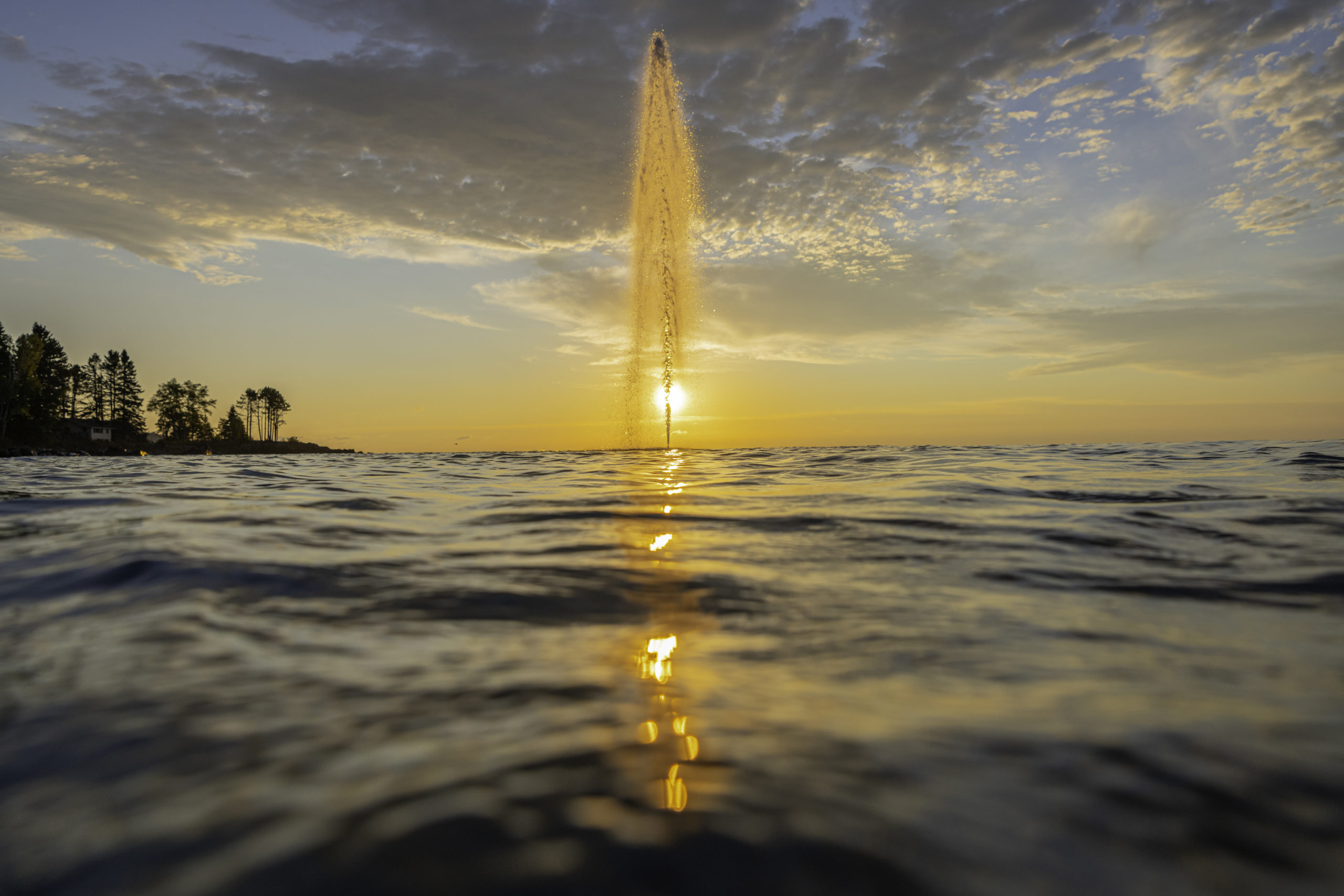 The Science Behind the Right Fountain Pattern
April 14, 2023
Most people choose a fountain pattern based on looks, but there are multiple factors to consider before picking the right one for you.
Things to Consider Before Adding a Fountain to Your Backyard Pond
April 13, 2023
Adding a decorative fountain to your backyard pond can be exciting, but there are some factors you should consider before making the purchase.