Kasco's Top Five De-icer FAQs
By: Joe Holz, Director of Sales | Published: October 13, 2023
_________________________________________________________________________________________________________
As winter approaches, the need for effective de-icing increases. When it comes to protecting your waterfront properties, we understand there is not a one-size-fits-all solution. That's why we have gathered and answered our most frequently asked questions to help you navigate winter's challenges with confidence.
Which mounting option would work best in my application?
The ideal mounting method can vary depending on the application and your de-icing objective. In many cases, using the provided mooring ropes is a sufficient way to suspend the De-icer below a dock or boat. These ropes allow you to hang your unit vertically or at an angle. The vertical suspension will create a circular opening at the water's surface directly above the unit. Suspending your unit at an angle will create an oblong shaped opening and enables you to direct the flow of warmer water in the desired direction.
Our Universal Dock Mount is recommended for areas with heightened water activity such as waves, tides, or currents. Designed with durable stainless-steel components, this mount offers more stability and features adjustable angle and depth options. The Simple Swivel bracket also allows the unit to rotate so you can direct the flow of water to a desired area.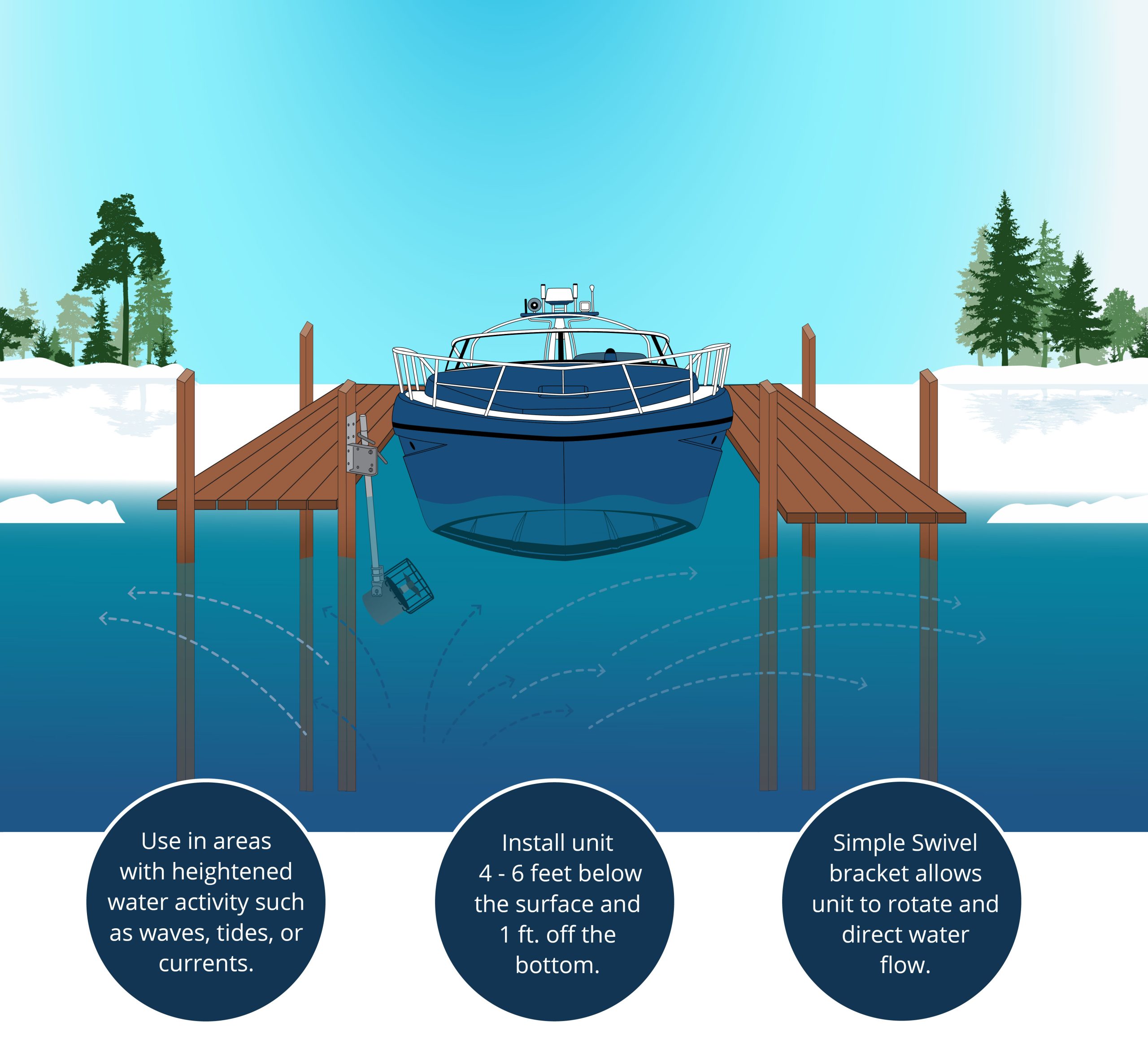 Horizontal Floats are another mounting option but are typically only recommended for when there are no structures to secure mooring ropes or a Universal Dock Mount. A float should only be used in calmer environments due to the unit being close to the water's surface. Horizontal Floats feature three angles of orientation allowing you to direct the flow to a desired area.
Can these units sit on the pond/lake bottom and still run efficiently?
Placing the De-icer directly on the bottom is not recommended. Although there are some aftermarket mounts designed to position the unit at or near the bottom, their effectiveness can vary depending on the specific application. Additionally, positioning the unit too close to the bottom in deeper water can limit the water movement at the surface.
How shallow of water can this unit work in? How far off the bottom should it be?
The effectiveness of a De-icer in shallow water all depends on the application. Generally, water depths less than 6-10 ft. make it difficult to de-ice long term. This is due to the limited supply of warm water in shallower areas. If deeper water is accessible, it is ideal to position the unit as close to it as possible and use an angled orientation to direct the flow of water to the shallower area you are wanting to de-ice.
In most applications, the De-icer should be positioned approximately 4-6 ft. below the water's surface. However, if that depth places the unit directly on the bottom, it should be raised so it is at least 1 ft. above the pond or lake floor.
When should I install my de-icer?
Although De-icers can be installed at any time, installation becomes more difficult once ice has formed. It is recommended to install them in late fall to ensure a smooth set-up process before ice forms.
Do you have a thermostat that can turn the unit on when it reaches a certain temperature?
Yes, we offer a C-10 controller that is designed to operate based on ambient air temperature, turning the unit on when it drops below the selected temperature. These controllers are ideal for areas where temperatures fluctuate above and below freezing throughout the day. We also offer a C-20 controller which features both timer and thermostat settings. These controllers are most effective in areas where winter temperatures are consistently well below freezing.
Have more questions?
At Kasco, we understand that no installation site is the same. That is why we have a team of lake and pond experts readily available to help our customers find the perfect solution for their de-icing needs. Contact us at sales@kascomarine.com or 715-262-4488.
---
Related Articles
Tips on Using Kasco De-Icers
November 27, 2017
From protecting docks, to keeping water open, here are common uses for Kasco de-icers along with our best advice on how to get the best results.
Keep Your Dock or Marina Ice Free This Winter
July 14, 2021
Kasco De-icers keep ice away from boats, docks, & marinas. Learn more about ice damage, how De-icers work, & why Kasco is the best choice.
What's Going on in There? – Winter
August 11, 2022
Cold weather can be harsh on your pond and its inhabitants. Continue reading to learn what you can do to care for your pond this winter.