Innovative Airflow Technology Now Available in Mid-Sized Compressor Cabinet
Press Release | Robust-Aire™ Diffused Aeration | May 24, 2023
____________________________________________________________________________________________
Cooler Compressors and Cleaner Cabinet Interiors Now Available for Medium Robust-Aire™ Diffused Aeration Systems
Introducing Kasco's Robust-Aire™ Medium Sized Cabinet
Prescott, Wis. [May 1, 2023] – Kasco introduces the second compressor cabinet in our Robust-Aire™ product offering to utilize patent-pending Aire-Guard Cabinet Technology. These newly designed Medium Cabinets provide innovative airflow as well as additional filtering for cooler, cleaner air. These systems are best suited for mid-sized ponds and lakes.
Kasco's new Robust-Aire Medium Cabinets follow in the footsteps of our largest-ever compressor cabinets introduced in Spring of 2022. Designed for ease of use and optimal performance, these new Medium Cabinets offer the same benefits available from our Large Cabinets to a wider customer base. Both cabinet sizes offer a sleek new look with a paint color that blends with the environment. Additionally, they feature external maintenance indicators, easy-to-remove panels for maintenance, and quiet operation. But the heart of these new systems is the Aire-Guard Cabinet technology. This technology allows compressors to stay cooler and cabinet interiors to stay cleaner.
What is Aire-Guard Cabinet Technology?
Aire-Guard Cabinet Technology tackles the biggest stressors on compressor operation: heat and dust. This approach allows air to immediately pass through an external filtration layer that removes excess dust and debris. Powerful fans then pull this clean air through the compressor, instead of across it. Due to this, the compressor is able to stay much cooler and operate at extreme efficiency. The dual-action filtering and air movement acts as a safeguard for the compressor motor and entire diffused aeration system. As a result, Robust-Aire is able to provide a steady source of mixing and movement to the water.
Compressor heat with (left) and without (right) Aire-Guard Cabinet Technology
"The efficiency and performance offered by Aire-Guard Cabinet Technology wasn't something we wanted to keep for just large-scale, commercial installations," says Kasco's Director of Sales, Joe Holz. "We're so excited to offer this technology in a medium-sized cabinet for those with smaller bodies of water so they can also experience a long-lasting, easy-to-maintain source of aeration."
Robust-Aire Medium Cabinets operate between 4 and 6 diffuser assemblies, and Large Cabinets operate between 7 and 12, all from just one cabinet. Both cabinet sizes are available through Kasco's worldwide distribution network. Visit kascomarine.com to find the distributor closest to you or call 715-262-4488 for more information.
---
ABOUT ROBUST-AIRE DIFFUSED AERATION SYSTEMS
Robust-Aire™ systems provide great aeration benefits in depths of 8 ft. or greater. A shore-mounted compressor pushes air through self-weighted lines to a dual-loop diffuser on the bottom of a pond, lake, or tank. This beneficial mixing increases oxygen transfer as well as improves water quality to eliminate thermal and chemical stratification, expand fish habitat, and more.
Related Articles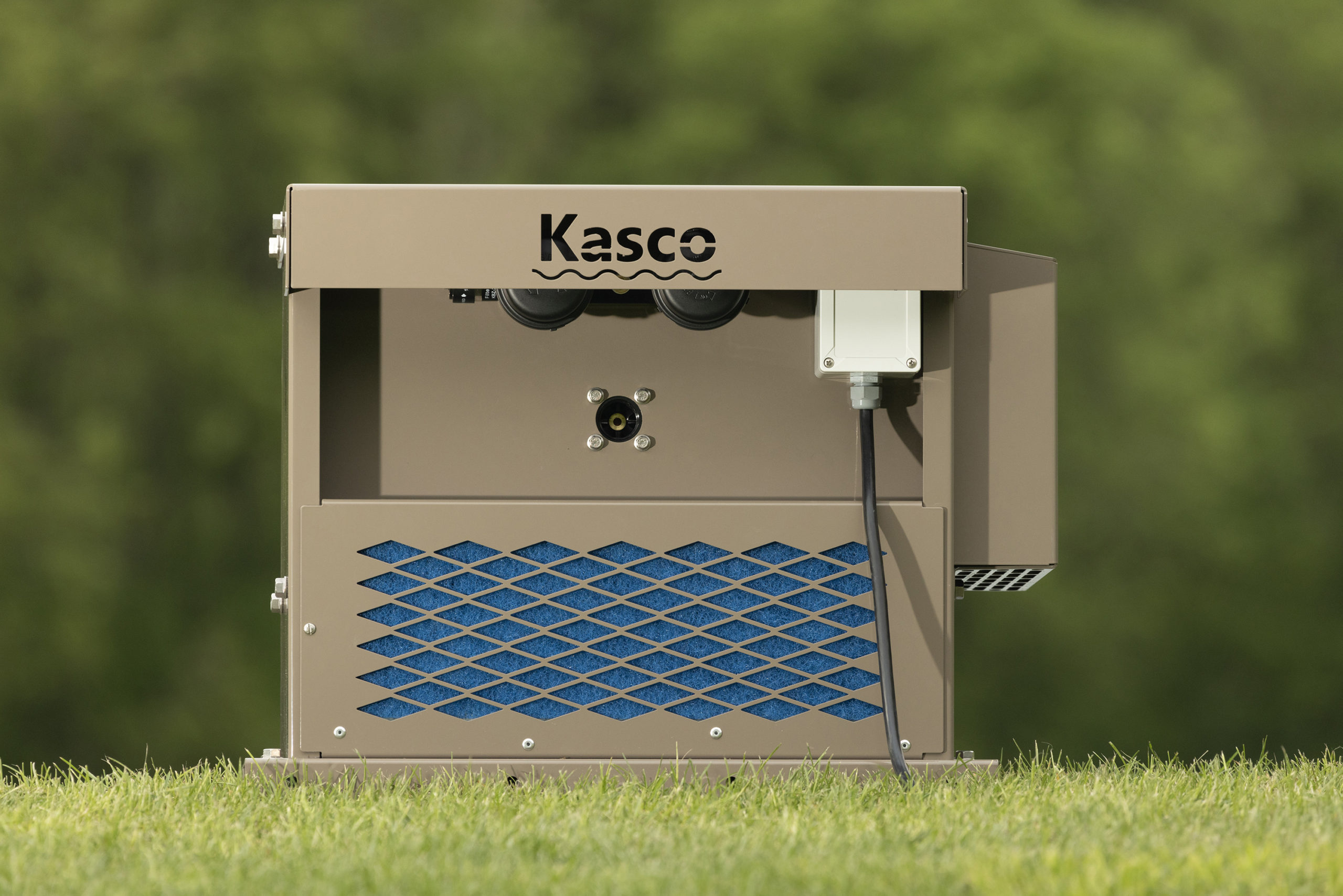 Interview with the Engineer - NEW Medium Robust-Aire™ Systems
May 23, 2023
Kasco's Enigneering Manager gives a behind-the-scenes look into the design and implementation of Robust-Aire's new Medium Compressor Cabinet.
Innovative Airflow is the Center of New Larger Robust-Aire™ Systems
July 18, 2022
Kasco introduces a new offering in our trusted Robust-Aire™ Diffused Aeration product line.
What Exactly is Diffused Aeration?
August 22, 2022
Whether you want to improve the clarity of a back-yard pond or remove excess nutrients from a wastewater lagoon, a diffused aeration system may be exactly what you need.