Interview with the Engineer – NEW Medium Robust-Aire™ Systems
An Interview with Kasco's Engineering Manager, Todd Dombrock | May 23, 2023
____________________________________________________________________________________________
Medium Robust-Aire™ Cabinets with Aire-Guard Cabinet Technology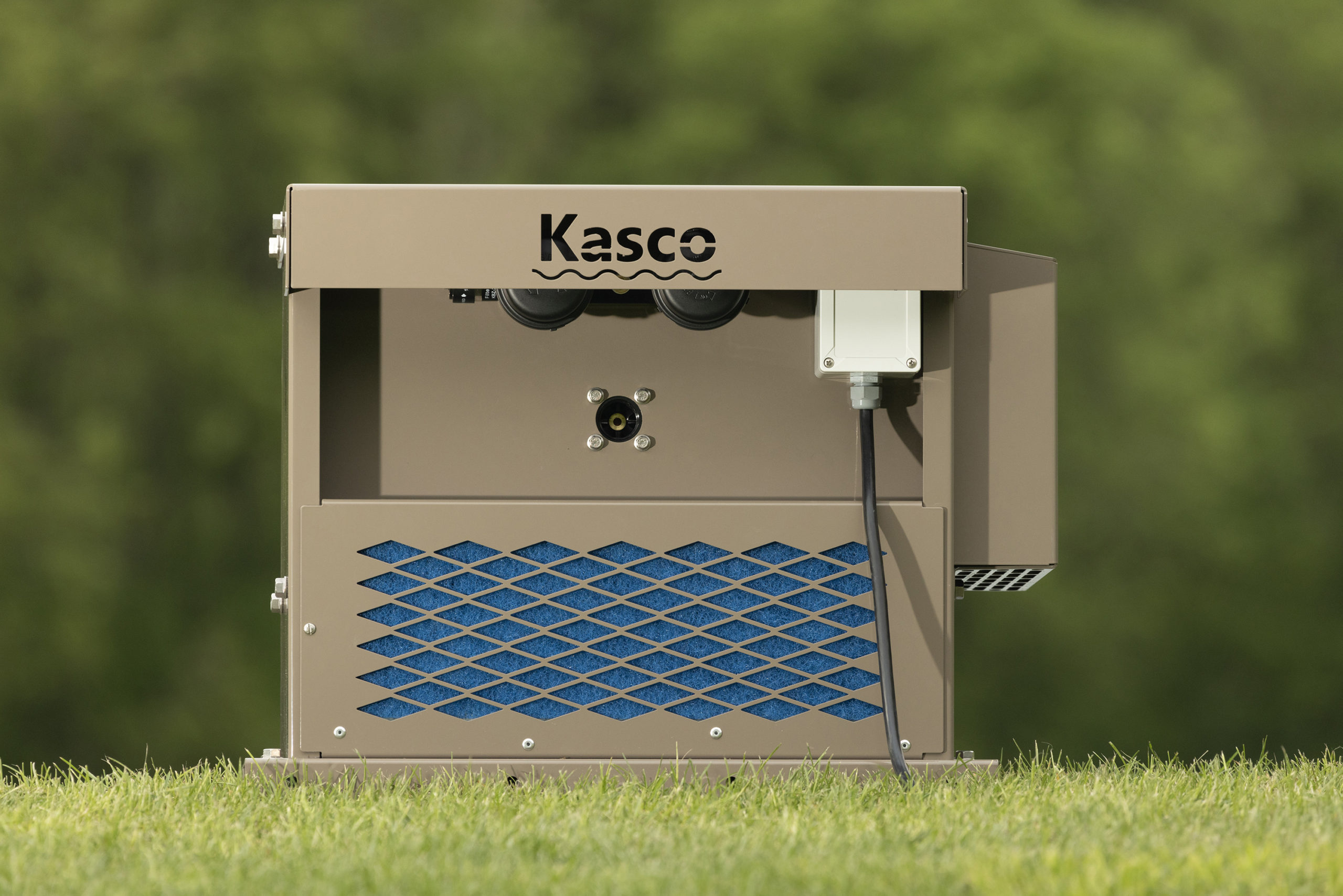 Kasco is excited to introduce new Robust-Aire Medium Compressor Cabinets. These are the second cabinet in our Robust-Aire product offering to utilize Aire-Guard Cabinet Technology.
Robust-Aire™ is Kasco's line of Diffused Aeration systems that provide great aeration benefits in depths of 8 ft. or greater. These systems release small air bubbles that mix the water from the bottom-up. This increases oxygen transfer and improves water quality to eliminate thermal and chemical stratification, expands fish habitat, and more. The product line has been expanded to offer a newly designed Medium Cabinet system that operates 4 – 6 diffusers from a shore-mounted cabinet that seamlessly blends with the environment. These systems are ideal for mid-sized ponds and lakes.
Here to tell us more about this exciting new product is the lead engineer behind the project, Kasco's Engineering Manager, Todd Dombrock.
Can you give us some background on the project?
The Robust-Aire Medium Cabinet project is an extension of our Large Cabinet project that was introduced in Spring of 2022. These systems utilize the same Aire-Guard Cabinet Technology as its larger sibling, but in a smaller package. We also used the same simulation software as we did with the Large Cabinet systems to ensure sound control in the Medium Cabinet design. All these features add up to a product that is suitable for both residential and commercial applications.
Medium Cabinets accommodate (2) 1/2HP compressors that supply air to 6 on-cabinet valves or to a single pipe connection to be used with a remote manifold and valve box. The remote manifold allows for installation flexibility for applications where the cabinet needs to be located farther from the shore.
Were the large cabinets a blueprint for these new medium cabinets?
Absolutely. Both cabinets were designed simultaneously as the Medium Cabinet is dimensionally the same as the Large Cabinet in all directions except width. Additionally, we constructed the new systems using several of the same panels and assemblies as we did with the Large Cabinets. Doing so made it easier to implement the Aire-Guard Cabinet Technology, which is the heart of these new systems.
What is significant about this cabinet redesign? What sets them apart?
The Robust-Aire Medium Cabinets are an upgrade (and will eventually be a complete replacement) of our Base Mount Systems. The new systems use high powered fans that pull cool, clean air through the compressor allowing it to stay much cooler and operate with extreme efficiency. These increased filtration and cooling abilities result in a system that can withstand wind, heat, rain, and dust, making them one of the most reliable Diffused Aeration systems on the market.
Where does this product fit in the water quality industry, and what can customers expect?
The Medium Robust-Aire Cabinets are an advancement in the evolution of diffused air quality. These systems were designed in a deliberate effort to improve all aspects of our Robust-Aire product line. We jumped on the opportunity to build from our existing models as well as exploit some shortcomings of other diffused aeration systems on the market. With that being said, customers can expect a more robust, long-lasting system with features that encourage good maintenance habits.
Will any of these design principles filter into future Kasco products or redesigns?
The design features found in both the Medium and Large Cabinet systems will eventually be incorporated into a Small Cabinet to handle small ponds and lakes. A lot of research was put into the design of these new cabinets. With the success we have seen thus far, it makes sense to implement them everywhere we possibly can.
How will the success of these new Robust-Aire Medium Cabinets be measured?
Customer sales as well as customer satisfaction will be the leading metrics for the success of the redesigned systems. We have made several key improvements to increase customer experience when purchasing a Robust-Aire system. We plan to continue that trend far into the future.
Learn more about these exciting new systems by visiting the Robust-Aire webpage or contact Kasco at 715-262-4488 or sales@kascomarine.com.
---
Related Articles
Innovative Airflow is the Center of New Larger Robust-Aire™ Systems
July 18, 2022
Kasco introduces a new offering in our trusted Robust-Aire™ Diffused Aeration product line.