Tips and Tricks for Robust-Aire™ Maintenance
Kasco's New Large Robust-Aire™ systems require far less maintenance than existing systems, but it's still important to keep an eye on things. Here are easy ways to keep your system running smooth.
By: Chad Imig, Western Regional Manager | August 11, 2022
____________________________________________________________________________________________
Cars need oil changes, furnaces need new filters, and flashlights need new batteries. To keep systems operating at their best, they require regular maintenance and inspection. Kasco's Robust-Aire Diffused Aeration systems are no different. We recently released a brand new offering of diffused aeration systems that drastically cut down on required maintenance. However, it is important to monitor anything with moving parts or air intake areas.
Make sure to keep your diffused aeration system in prime condition by following our maintenance recommendations.
Air Filters
We are commonly asked how frequently the air filters in Robust-Aire™ systems should be cleaned. Because environments and operating conditions vary greatly, there isn't a one-size-fits-all answer. Conditions in Minnesota are vastly different than the desert of the southwest. It's also important to learn about your specific operating requirements as that changes the system's run-time and how often your system might need attention. But for general guidelines, we recommend:
After one month of operation, check your air filters. If they look clean, check them again in two months.
It is a good idea to clean your filters quarterly. However, filters may require monthly cleaning in high dust locations.
Changing all air filters every two years is an inexpensive way to keep your diffused aeration system operating efficiently.
The good news is Kasco's design make this an amazingly easy and quick process.
Our consumed air filters are externally mounted on the cabinet for easy access and cleaning. Simply unscrew the protective metal cover and remove the filter. Gently tap the filter against your hand or on the cabinet. You can also blow compressed air through the filter.
To clean the externally located motor filters, grab a screwdriver, and remove the single screw on each side. Slide the filter out and tap it on the side of the Cabinet. Then, blow compressed air through it, or wash in water. Do not reinstall until it is completely dry.
Visual Filter Minder
It's always a good idea to inspect the air filters on your system periodically, especially as you're learning the specific needs of your system. Additionally, as an added feature, all of Kasco's Robust-Aire™ systems include a visual maintenance indicator inside the cabinet. This shows whether the air filter needs cleaning. Simply remove the cabinet lid and look to see if the resettable filter minder is set to "red". This indicates that it needs cleaning.
A dirty vs. clean compressor air filter (RA 1-6 system).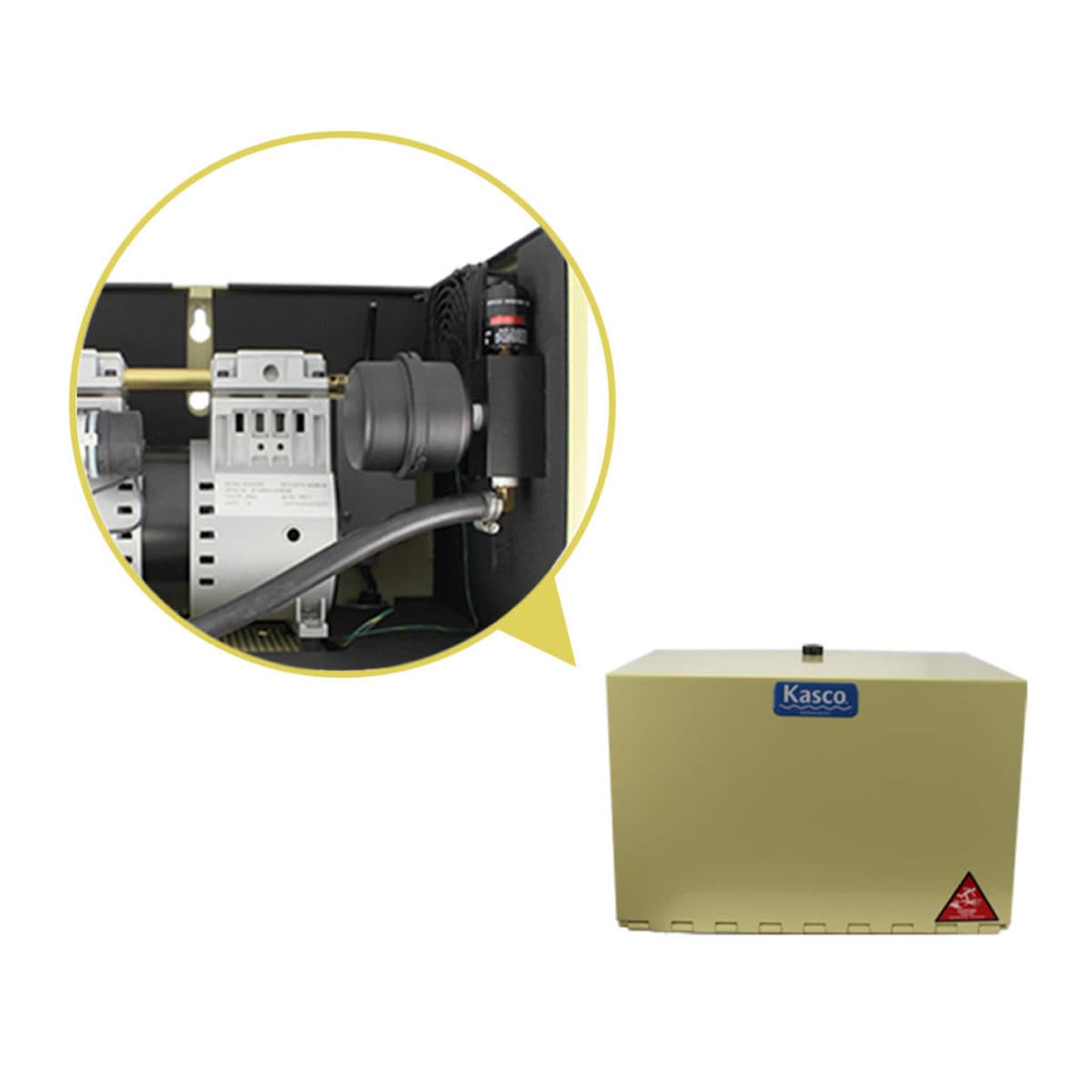 Visual filter minder alerts when maintenance is required.
Compressor
We are also asked how long compressors will last. This is another question where the answer lies in your location and how well you maintain the air filters. Although Kasco's new Large cabinets are revolutionary for cooling and filtering, we cannot control the heat and dust where your system operates. Here are a few guidelines for compressor maintenance:
Consider changing the piston portion of your compressor yearly if your system is in an area where heat consistently exceeds 100° F.
In a cooler northern climate, we recommend changing the piston portion every two years. This can be done in the field or by Kasco for a fee.
Diffuser
It's easy to answer warranty and maintenance questions for the diffuser assembly, as Kasco diffusers are unlike any other. Using a proprietary diffuser membrane and stainless-steel base that lands up-right in the water every time, our diffusers are maintenance-free, clog-free, and carry a lifetime warranty on every piece of the assembly.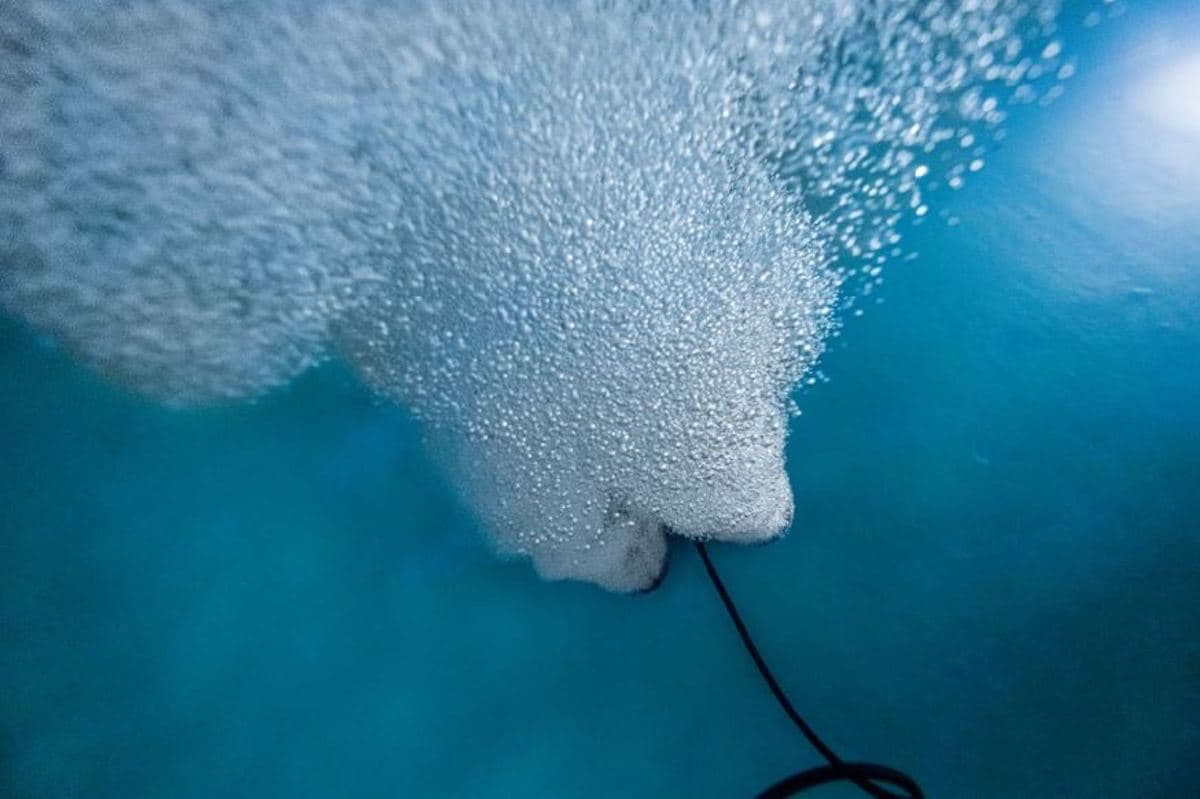 An Ounce of Prevention is Worth a Pound of Cure
Although Kasco Robust-Aire™ Diffused Aeration systems require the least amount of maintenance on the market, it's still important to check in on how your system is operating according to our guidelines above. Just like changing the oil in your car, the better you care for your system o, the longer it will run. There is no such thing as a set and forget system. A little bit of attention, cleaning, and routine maintenance will ensure your diffused aeration system will provide water quality benefits for years to come.
If you have any questions, please email us or call 715-262-4488.
---
Related Articles
Innovative Airflow is the Center of New Larger Robust-Aire™ Systems
July 18, 2022
Kasco introduces a new offering in our trusted Robust-Aire™ Diffused Aeration product line.