ROBUSTAIRE™ DIFFUSED AERATION
Move and Aerate Large Volumes of Water
RobustAire™ Diffused Aeration
AireGuard Cabinet Technology Now Available in Two Cabinet Sizes
Kasco now offers RobustAire™ systems with Aire-Guard Cabinet Technology in Large and Medium compressor cabinet sizes. Using a new approach to airflow through the cabinet, systems are safeguarded from heat, dust, and debris, and are easier to keep clean and maintain. These new systems feature completely redesigned cabinets and provide air to 4 – 12 diffuser assemblies.
Read the press releases on the Medium Cabinets and Large Cabinets to learn more.
Kasco's RobustAire™ systems are quiet and provide great aeration benefits in depths of 8 ft. or greater. A shore-mounted compressor pushes air through self-weighted lines to a dual-loop diffuser on the pond, lake, or tank bottom. The diffuser then continuously releases micro-bubbles that rise to the surface carrying large volumes of water.
This beneficial mixing increases oxygen transfer and improves water quality to eliminate thermal and chemical stratification, expand fish habitat, and more.
Warranty periods:
Diffuser: Lifetime
Cabinet: Lifetime
Tubing: 15 years
Compressor Motor: 3 years
Compressor Piston Cups & Cylinders: 2 years
Click here to request a RobustAire™ custom layout.
About
Características
No-Cabinet Packages
Post Mount Packages
Base Mount Packages
NEW Medium Cabinet Packages
NEW Large Cabinet Packages
50HZ Units (International)
AireGuard Cabinet Technology
AireGuard Cabinet Technology tackles the biggest stressors on compressor operation: heat and dust. With this innovative design, air is immediately passed through an external filtration layer that removes excess dust and debris. Powerful fans then pull this clean air through the compressor, instead of across it, allowing the compressor to stay much cooler and operate at extreme efficiency. The dual-action filtering and air movement acts as a safeguard for the compressor motor and entire system, allowing RobustAire to provide a reliable source of mixing and movement to the water. 
 
This technology is offered in Kasco's new Medium and Large Cabinets that operate 4 to 12 diffuser assemblies. Both cabinet sizes feature a sleek new look, external maintenance indicators, easy-to-remove panels for scheduled maintenance, quiet operation, and a paint color that seamlessly blends with the environment." 
Cabinet Options
No-Cabinet (1-3 diffusers)
Post Mount Cabinet (1-3 diffusers) – For installations where compressor cabinets can be mounted above the ground
Base Mount Cabinet (1-3 diffusers) – For installations where compressor cabinets need at ground level
NEW Medium Cabinets (4-6 diffusers)
NEW Large Cabinet (7-12 diffusers)
Common Applications
Backyard ponds & lakes
Industrial
Mixing
Winterkill prevention
Waterfowl protection
Product Resources
Links to product files including specifications,
owner's manuals, and other related documents
for RobustAire™ Diffused Aeration.
NEW Medium RobustAire Cabinets
Aire-Guard Cabinet Technology now available in mid-sized compressor cabinet.
Vital Mixing for Your Water
Restore your water's natural ecosystem by adding beneficial water mixing and movement.
New Technology Within our RobustAire Cabinets
This new approach to air movement keeps compressors cooler and running longer.
Kasco RobustAire Diffuser Assembly
Featured Product Testimonials
"I put this in my 3/4 acre swimming pond, It kept the water clean, clear and funk free. Having no electricity running into your pond makes this the safest, most effective way, to have a healthy pond."

- Keith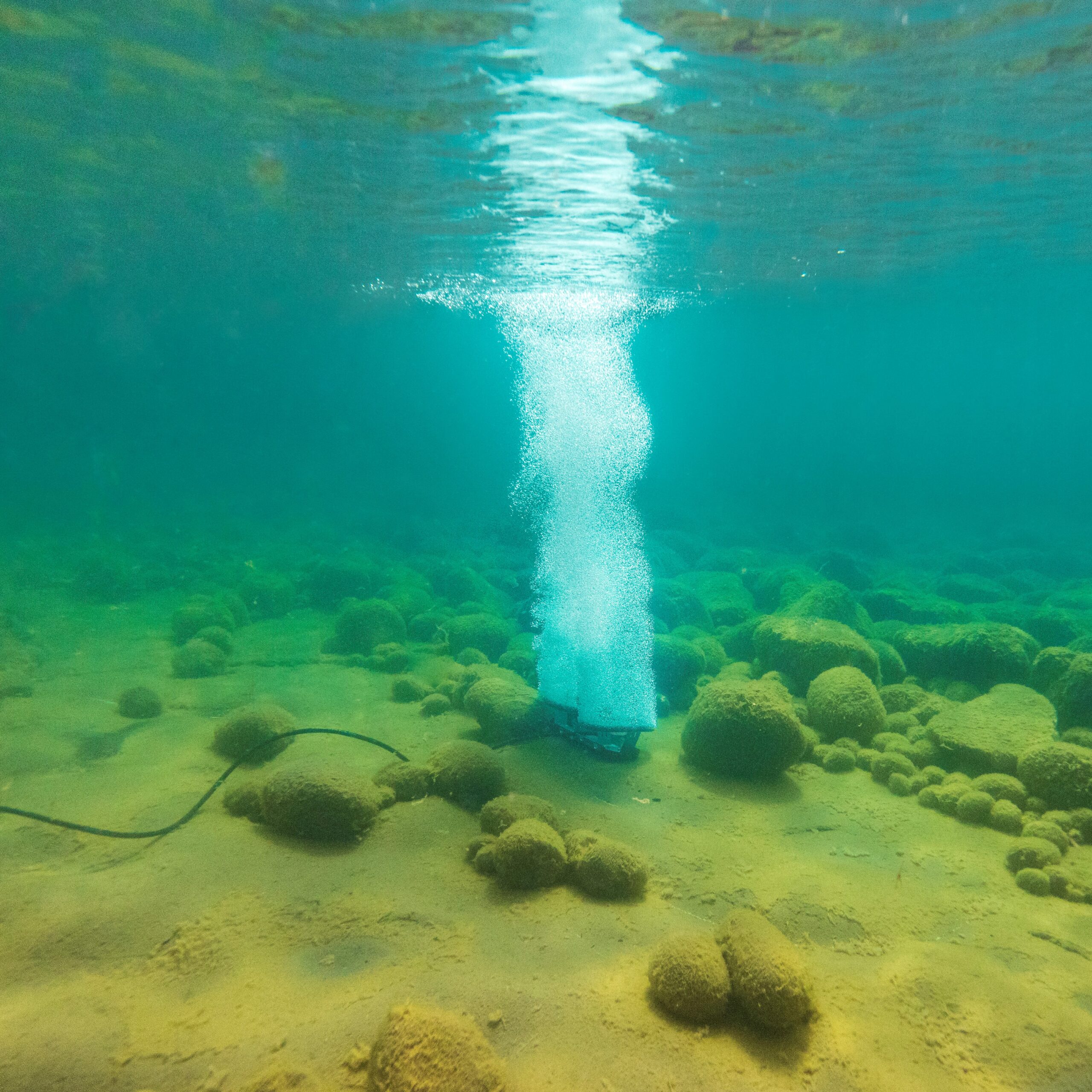 "Winyah has installed RobustAire™ in pond that is directly connected to salt water systems (27-32 ppt). This oxygen increase has increased bacteria activity and is obvious by the reduction of organics on the pond bottom. The system has operated flawlessly since installation in 2013, and has resulted in the sale of another system to a resident of the Home Owner Association."

- Sam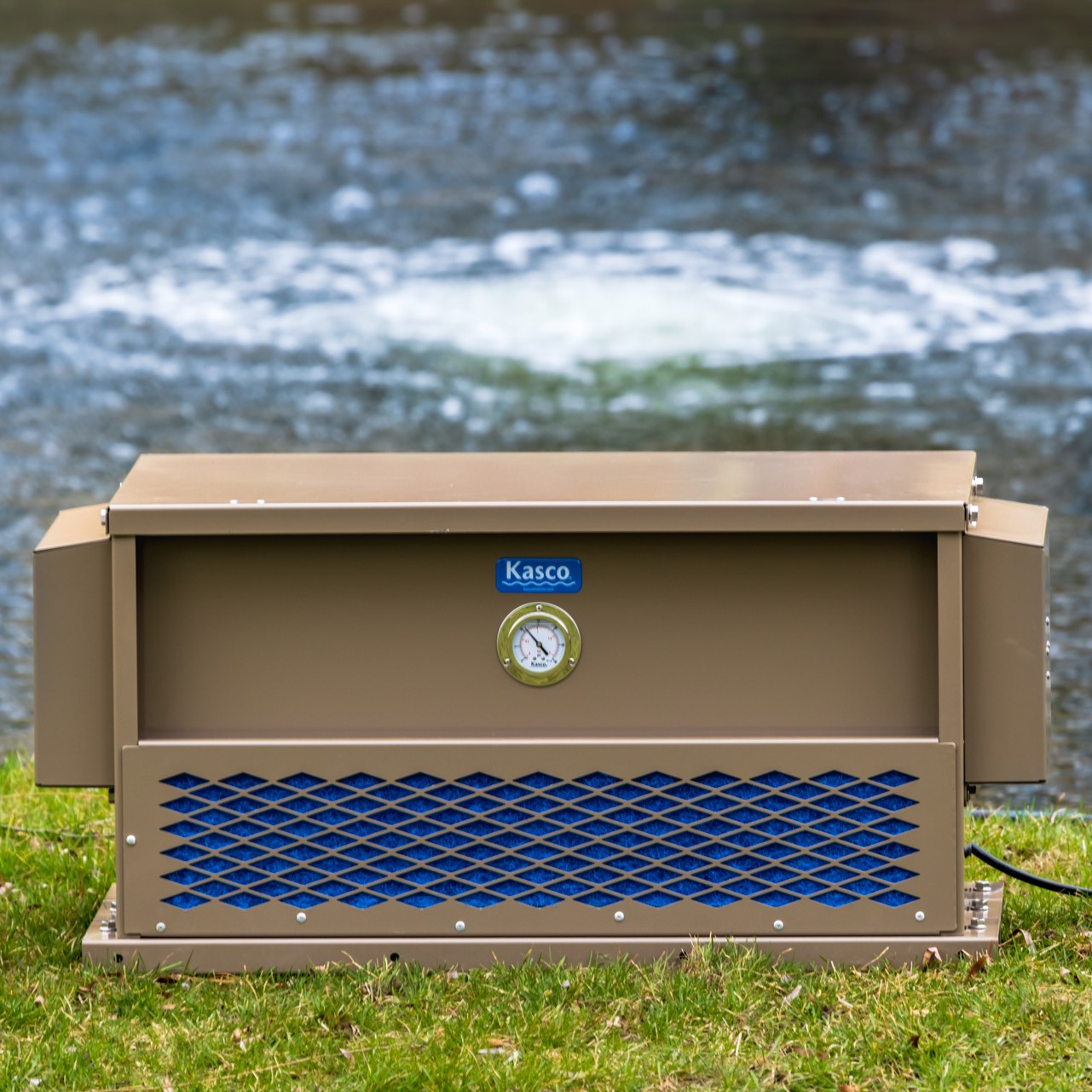 "This is the Don Ho of tiny bubbles. With regulators requiring stricter water quality discharge standards in marinas, this version improves water flow 10 to 40 percent and solves several design challenges other manufacturers face trying to improve aquatic conditions."

- Chris